2023年1月14日雅思考试口语回顾
Part1题目汇总(加粗题为高频题)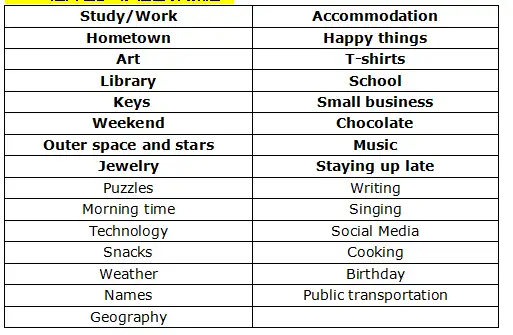 Part2 题目汇总(加粗题为高频题)
人物类:
Describe an actor or actress whom you admire.
Describe a person you have met who you want to work/study with.
Describe an interesting old person you met.
Describe a person you met at a party who you enjoyed talking with.
Describe a person who likes to dress fashionably.
Describe a person you know who loves to grow plants.
Describe a person you know who is from a different culture.
Describe a friend from childhood.
Describe a person who inspired you to do something interesting.
地点类:
Describe another city you would like to stay for a short time.
Describe a noisy place you have been to.
Describe a place you visited where the air was polluted.
Describe a new development in the area where you live (shopping mall, park …).
Describe your favorite place in your house where you can relax.
Describe a popular place for sports that you've been to.
Describe the home of someone you know well and often visit.
Describe a place in your country that you would like to recommend to visitors/tourists.
物品类:
Describe a piece of good news that you heard about someone you know well.
Describe a website you often visit.
Describe a piece of technology that you feel difficult to use.
Describe a historical period you would like to know more.
Describe an advertisement you don't like.
Describe something you would like to learn in the future.
Describe a program you like to watch.
Describe a photo you took that you are proud of.
Describe an object that you think is beautiful.
Describe a story or novel you have heard about that you found interesting.
Describe a movie you watched recently and would like to watch again.
Describe an important thing you learned (not at school or college).
事件类:
Describe a time when someone gave you something that you really wanted.
Describe a time when you made a complaint and were satisfied with the result.
Describe your daily routine that you enjoy.
Describe something you did that made you feel proud.
Describe a time when you missed or were late for a meeting.
Describe an activity you enjoyed in your free time when you were young.
Describe a time when you taught a friend/relative something.
Describe the first day you went to school that you remember.
Describe something that you did with someone/a group of people.
Describe an unusual meal you had.
Describe a problem you had while shopping online or in a store.
Describe a time when you made a decision to wait for something.
Describe a time when you forgot/missed an appointment.
Describe a time you shared something with others.
Describe an outdoor activity you did in a new place recently.
Describe a disagreement you had with someone.
Describe a time when you saw a lot of plastic wastes.
Describe an impressive English lesson you had and enjoyed.
Describe a time when you needed to search for information.
Describe a time when you received money as a gift.
Describe a time when you over came difficulties in doing something and succeeded.
Describe a time you received positive feedback.
朗阁讲师李亚男点评
Part1:
*部分的新题难度不是很大,都是和日常生活关联很紧密的话题,大家要注意给出回答之后补充相应的细节解释,同时一些题目问到did you ... have you ...也要注意使用正确的时态。
Part2:
1月新题已经相对稳定了下来,仔细观察题库,不少新题和之前留下的话题都可以进行素材的串联,比如a problem you had in shopping和a time you made a complaint,户外活动和和其他人一起参与的活动也可以结合,学到的重要东西和教他人做事也不难使用同一素材串联,这样可以节省不少备考的时间。串联中也一定要注意审题,把握好不同题目的要求。
考试建议
建议大家在考前结合题库进行*后的准备和冲刺,一定要尽可能把题库中的题目过一遍,加强对于话题的熟练度,这样上考场也会更加的有把握!祝大家都能取得理想的分数!
2023年1月14日雅思考试听力回顾
场景话题:
Pl图书馆相关/ P2 森林河流区域介绍 / P3音乐专业的*讨论/ P4 工程师的职业道德演变
题型:P1填空题/ P2 地图题+多选题/ P3 多选题+匹配题/ P4 填空题
朗阁讲师汪洋点评
本次考试难度:中等。
从题型搭配来看,1、4部分都是10题填空;第2部分考到了地图与多选,第3部分是匹配和多选的题型搭配,题型的搭配都比较常规,本次考到了地图题,对于擅长地图的同学来说,本次考试比较简单。
此次考试的答案词不难,基本是常考的核心词汇。
注意易错词:magazine、sweetener、license。易错词并不多,都是常规词汇,这三个单词注意一下拼写方面,不要出现"缺字母"、"错字母"的问题即可。
本场考试填空题出现在P1、P4。答案(仅供参考)如下:
P1:1.Skellran;2. park;3. 4.30pm;4. drama;5. singing;6. artists club;7. magazines;8. films; 9. card number;10. maps
P4:31. personal;32.bridges;33.wind;34. weight;35.sweetener;36. tank;37. cost; 38. safety; 39.pressure; 40.license
本场听力考试,填空和选择依然是考察的重点,其中多选题的占比稍有些多,且没有考到单选题。
填空题方面,一定要注意把音听准确,例如sweetener,这个单词可能大家并不熟悉,但属于熟悉词汇的衍生词。如果听音准确,是可以根据"自然拼读"和"词缀"自行将词拼出来的。
另外,一定要注意单复数的问题,听到单数写单数、听到复数写复数,是**险的方式,尽量不要在这方面失分。
选择题与匹配,同意替换是重点,另外注意干扰选项的问题,不要踩入题目中的陷阱。尤其注意多选题,*常见的情况就是每个选项都提及,要求学生能自主分辨选项的正误。
本场考试题型常规,搭配也常规。平时好好刷剑桥真题,真题把握好了,考试就能把握好。
填空题方面,答案词基本都是常见核心词汇,只要认真背过雅思听力核心词,就不是问题。课下继续词汇的背记,一定要牢记:所有单词都不只是认识,也要会拼才行。
选择题方面,按照以往思路来做即可。加强对出题思路的解析、同义替换的听取;
所有题目,只要综合真题的技巧运用,把真题研究透彻,就足以从容应对。
参考剑桥练习:剑5T2S1; 剑11T2S2;剑8T4S3; 剑15T3S4
考试建议
1. 场景方面:场景方面依旧是主流场景(咨询介绍、区域介绍、*相关讨论、学科讲座),在接下来的考试中,考生还应将重点放在S1咨询,住宿,求职 S2旅游,活动及公共场所设施介绍,S3课程/*讨论及论文写作,S4各类*讲座。
2. 题型:本场考试比较常规,1、4部分考填空;2、3部分考到地图、选择和匹配。
下次考试的题型,应该还是常规搭配:P1,P4填空为主;P2,P3选择题为主,地图方面可以稍稍放松一下,下一场考的概率不会太大。
3. 机经:如需参考机经,以2018-2022年机经为主。建议机经复习以熟悉词汇为主,*曾经考察过的单词自己都能辨音并正确拼写。
2023年1月14日雅思考试写作回顾
小作文: 线图
大作文: Some ex-prisoners commit crimes after being released from the prison.what do you think is the cause? How can it be solved?(报告类)
朗阁讲师郑世琦点评
1.本次考试 难度中等。
2.整体分析:
Task 1:英国钢铁的需求以及钢铁厂的employer数据,线图(动态图)。
注意:1.主要数据的挑选,相关信息的横向和纵向对比。2. 注意正文段表述数据时态的选择;3.词汇和句式结构,多样性。
相关动态数据表达:
There was an upward trend in ... from ... to...
...had experienced an increase from ... to...
Despite some ups and downs, ... was on a rise from ... to ... .
... grew from ... to ..., followed by a decline to ...
Task 2 :犯罪类
题目翻译:一些刑满释放的罪犯在出狱后再次犯罪。什么原因导致的?怎么解决?(报告类话题)
是一个比较常考的话题,这里*一些思路:
Why:
对于犯罪者的惩罚不够(the sanctions against criminals are not harsh enough).转而言之,惩罚没有让罪犯改变他们自己(does not make a huge difference to offenders),也没让他们意识到自己的行为会对这个社会产生的严重结果(these people are normally unable to realize the detrimental consequences that breaching the law will entail for victims and society). 从监狱回来的罪犯可能不能完全被社会所接受(former convicts are not completely accepted in society)。公司可能会拒绝雇佣他们,他们的家人和朋友可能也不会完全原谅他们(employers refuse to recruit them and their family and friends may not embrace them).
Solution:
更加严厉的惩罚可能是一个有效的方法,比如更长的监禁或者社区服务(a longer jail sentence or stint of community).给予有前科的犯罪者*职业培训和就业机会也是一个很好的解决方法(providing more vocational training sessions and job opportunities for those with criminal records is another feasible solution).
考试建议
1.小作文:重点关注表格、地图
2.大作文:重点关注媒体、政府话题。
3.重点浏览2021年写作机经,可借助《*范文书》第8版经典旧题来复习。
2023年1月14日雅思考试阅读回顾
P1 修复历史花园
P2 商业和社会
P3 运动和神经
朗阁讲师孙景楠点评
本次考试难度中等偏难。
2. 整体分析:涉及建筑历史类(P1)、商业类(P2)、医学类(P3)。
本场考试三篇文章整体来看细节题型偏多,填空题及判断比重较大,配对题主要为段落大意,*篇共两个题型(判断和填空),定位比较轻松,话题虽然偏陌生,但从题型搭配来看难度不大;第二篇文章为难度较大,话题比较陌生;第三篇虽然话题陌生,但细节题比较多,说明性质文体,行文方式*化较强,难度略高。
3. 主要题型:本次考试配对题型比例较少,主要出现在第二篇及第三篇中,但细节题比例依旧维持之前考试风格,*篇及第三篇无论填空还是判断,都比较好定位。
4. 文章分析:*篇主要对新西兰古建筑花园的修复;
第二篇文章讲述商业的发展与社会的关系;
第三篇讲述对大脑运动神经的研究;
5. 部分答案及参考文章:
Passage 1:
题型:判断+填空
答案待回忆
Passage 2:
题型:段落大意匹配+填空
相似文章参考:
Corporate Social Responsibility
Broadly speaking, proponents of CSR have used four arguments to make their case: moral obligation, sustainability, license to operate, and reputation. The moral appeal – arguing that companies have a duty to be good citizens and to "do the right thing" – is prominent in the goal of Business for Social Responsibility, the leading nonprofit CSR business association in the United States. It asks that its members "achieve commercial success in ways that honour ethical values and respect people, communities, and the natural environment. "Sustainability emphasises environmental and community stewardship.
A. An excellent definition was developed in the 1980s by Norwegian Prime Minister Gro Harlen Brundtland and used by the World Business Council for Sustainable Development: "Meeting the needs of the present without compromising the ability of future generations to meet their own needs." Nowadays, governments and companies need to account for the social consequences of their actions. As a result, corporate social responsibility (CSR) has become a priority for business leaders around the world. When a well-run business applies its vast resources and expertise to social problems that it understands and in which it has a stake, it can have a greater impact than any other organization. The notion of license to operate derives from the fact that every company needs tacit or explicit permission from governments, communities, and numerous other stakeholders to justify CSR initiatives to improve a company's image, strengthen its brand, enliven morale and even raise the value of its stock.
B. To advance CSR. we must root it in a broad understanding of the interrelationship between a corporation and society. Successful corporations need a healthy society. Education, health care, and equal opportunity are essential lo a productive workforce. Safe products and working conditions not only attract customers but lower the internal costs of accidents. Efficient utilization of land, water, energy, and other natural resources makes business more productive. Good government, the rule of law, and property rights are essential for efficiency and innovation. Strong regulatory standards protect both consumers and competitive companies from exploitation. Ultimately, a healthy society creates expanding demand for business, as more human needs are met and aspirations grow. Any business that pursues its ends at the expense of the society in which it operates will find its success to be illusory and ultimately temporary. At the same time, a healthy society needs successful companies. No social program can rival the business sector when it comes lo creating the jobs, wealth, and innovation that improve standards of living and social conditions over time.
C. A company's impact on society also changes over time, as social standards evolve and science progresses. Asbestos, now understood as a serious health risk was thought to be safe in the early 1900s, given the scientific knowledge then available. Evidence of its risks gradually mounted for more than 50 years before any company was held liable for the harms it can cause. Many firms that failed to anticipated the consequences of this evolving body of research have been bankrupted by the results. No longer can companies be content to monitor only the obvious social impacts of today. Without a careful process for identifying evolving social effects of tomorrow, firms may risk their very survival.
D. No business can solve all of society's problems or bear the cost of doing so. Instead, each company must select issues that intersect with its particular business. Other social agendas are best left to those companies in other industries, NGOs, or government institutions that are better positioned to address them. The essential test that should guide CSR is not whether a cause is worthy but whether it presents an opportunity to create shared value – that is, a meaningful benefit for society that is also valuable to the business. Each company can identify the particular set of societal problems that it is best equipped to help resolve and from which it can gain the greatest competitive benefit.
E. The best corporate citizenship initiatives involve far more than writing a check: They specify clear, measurable goals and track results over time. A good example is General Electronics's program to adopt underperforming public high schools near several of its major U.S. facilities. The company contributes between $250,000 and $1 million over a five-year period to each school and makes in-kind donations as well. GE managers and employees take an active role by working with school administrators to assess needs and mentor or tutor students. In an independent study of Ion schools in the program between 1989 and 1999, nearly all showed significant improvement, while the graduation rate in four of the five worst performing schools doubled from an average of 30% to 60%. Effective corporate citizenship initiatives such as this one create goodwill and improve relations with local governments and other important constituencies. What's more, GE's employees feel great pride in their participation. Their effect is inherently limited, however. No matter how beneficial (he program is, it remains incidental to the company's business, and the direct effect on GE's recruiting and retention is modest.
F. Microsoft s Working Connections partnership with the American Association of Community Colleges (AACC) is a good example of a shared-value opportunity arising from investments in context. The shortage of information technology workers is a significant constraint on Microsoft's growth; currently, there are more than 450,000 unfilled IT positions in the United States alone. Community colleges, with an enrollment of 11.6 million students, representing 45% of all U.S. undergraduates, could be a major solution. Microsoft recognizes, however, that community colleges face special challenges: IT curricula are not standardized, technology used in classrooms is often outdated, and there are no systematic professional development programs to keep faculty up to date. Microsoft's $50 million five-year initiative was aimed at all three problems. In addition to contributing money and products, Microsoft sent employee volunteers to colleges to assess needs, contribute to curriculum development, and create faculty development institutes. Microsoft has achieved results that have benefited many communities while having a direct-and potentially significant-impact on the company.
G. At the heart of any strategy is a unique value proposition: a set of needs a company can meet for its chosen customers that others cannot. The most strategic CSR occurs when a company adds a social dimension to its value proposition, making social impact integral to the overall strategy. Consider Whole Foods Market, whose value proposition is to sell organic, natural, and healthy food products to customers who are passionate about food and the environment. The company's sourcing emphasises purchases from local farmers through each store's procurement process. Buyers screen out foods containing any of nearly 100 common ingredients that the company considers unhealthy or environmentally damaging. The same standards apply to products made internally. Whole Foods' commitment to natural and environmentally friendly operating practices extends well beyond sourcing. Stores are constructed using a minimum of virgin raw materials. Recently, the company purchased renewable wind energy credits equal to * of its electricity use in all of its stores and facilities, the only Fortune 500 company to offset its electricity consumption entirely. Spoiled produce and biodegradable waste are trucked to regional centers for composting. Whole Foods' vehicles are being converted to run on biofuels. Even the cleaning products used in its stores are environmentally friendly. And through its philanthropy, the company has created the Animal Compassion Foundation to develop more natural and humane ways of raising farm animals. In short, nearly every aspect of the company's value chain reinforces the social dimensions of its value proposition, distinguishing Whole Foods from its competitors.
Passage 3:
题型:填空+判断+单选
待补充
考试建议
1. 本场考试从题型角度分析,定位会比较轻松,所以难度集中在理解上。在接下来考试中,在*证细节题型能够*定位的前提下,尝试多找替换,结合上下文理解做题,考生要注意有可能出现大量配对题型集中的情况,不要过分依赖定位技巧,多练习理解定位。
2. 下场考试的话题可能有关环境类,技术类,教育类。